Business & Industry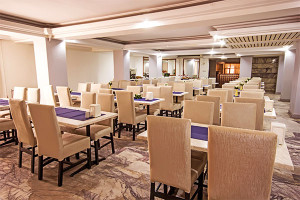 Most Business and Industrial settings are in a line of commerce other than foodservice—but they still have a workforce that depends upon on-site cafeterias and restaurants to keep them well-fed and working at peak performance. Your busy kitchen needs to meet this essential need quickly and efficiently. Stero dishwashers are the perfect partner for your foodservice facility, including ease-of-use and rapid cleaning.
Hall's Rental Service Seeks Workhorse for Fast-paced Operation
"We are currently in the process of purchasing a Stero flight type dishwashing machine—our third. Stero dishwashers have enabled our company to meet increased productivity demands by running 18 hours per day, six days per week from April through December in the deadline-oriented party rental business.
We have found Stero to be the 'workhorse' we had searched for when we purchased our first machine in 1999. That machine is still running as well today as it had when it was first installed. When service is required, it is prompt and professional with very little down time. I can say that Stero has met and exceeded our expectations and would highly recommend these machines to anyone considering replacing or adding to their warewashing operation." -Hall's Rental Service, Niles, Illinois